Did you know businesses with active blogs gain 67 percent more leads?
In an era when Google's name became a verb, business blogs delivering valuable content are a trusted source for information. Your business blog is the magnet that draws potential customers to your site.
     Companies who blog receive 97% more links to their website.
Wouldn't you love more interaction with your target market?
Business blogging has several benefits.
Consistent, helpful content increases online visibility for your company, products and services
High quality blogs establish your credibility and authority in your industry
Business blogging helps achieve your marketing goals
The trick is finding the time to produce high quality content.
You have other priorities
Or you simply do not like to write
Perhaps your staff does not have the time or skills
If you are going to blog, you want to give your business blog the attention it needs.
My ghostblogging services can help.
What does your business receive?
The following are a few examples of services you can receive from my ghostblogging services.
Interviews with subject matter experts to develop feature posts on new products or current strategy
Informative posts that educate potential customers about your business or industry
Regular production of blog posts to improve search engine optimization (SEO)
You decide if you outsource all blogging or use professional ghostblogging services to supplement your team's efforts.
Currently, I offer ghostblogging services on a 3-, 6- or 12-month basis. The following terms apply.
Final fees are quoted on a package basis and formalized with a written Statement of Work
Original copy between 400-600 words per post (longer posts available for higher fee)
Headings, keywords and meta description designed for SEO best practices
Industry resources and background information provided by client
Additional research (as needed) up to 30 minutes provided by me
The following illustrates available ghostblogging packages. I am happy to customize packages to meet your company's needs. Fees vary based on contract length, length of individual blog posts, and the amount of required research. Use my Contact Cathy form to discuss your blogging needs.
Ghostblogging Packages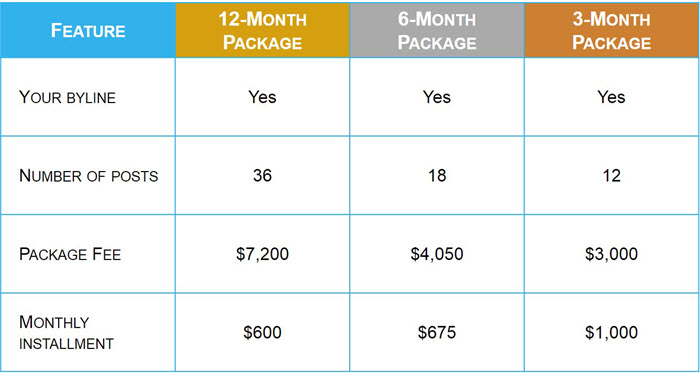 NOTE: Ghostblogging services do NOT include the following.
Comment management
Marketing or social media postings
Guarantees of improved page rankings or increased sales
============================
Bonus for Healthcare/Insurance/Employee Benefits Organizations
When you hire Cathy Miller, you hire an industry professional who is a licensed broker, former healthcare provider, and professional writer with over 30 years of experience. I have both the inside technical knowledge and professional writing skills to make your business life easier.